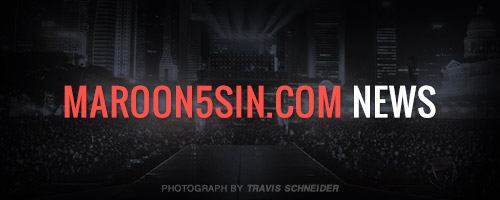 July 08, 2009
M5 Enter The Studios

Maroon 5 announced that they will be entering the studio this month with legendary producer, Robert John "Mutt" Lange for the follow-up of their multi-platinum album, It Won't Be Soon Before Long. The quintessential pop-rock producer helped shape blockbuster albums for acts like AC/DC, Def Leppard, Bryan Adams, The Cars, Shania Twain and Foreigner. As a producer, his albums have sold an astounding 110 million records in the US alone, and he also has received six Diamond Awards for his work &151; an industry first for a producer.

S.I.N. CLUB HEADLINES
Oct 26, 2017

Maroon 5 is coming your way in 2018 with the Red Pill Blues ...

Oct 20, 2017

Do you have what it takes to be Maroon 5's honorary 8th ...

Sep 25, 2017

Celerate the incoming New Year with Maroon 5 and fellow...
view more
MAROON5.COM NEWS
MAR 8, 2018

MAR 7, 2018

FEB 27, 2018
view more