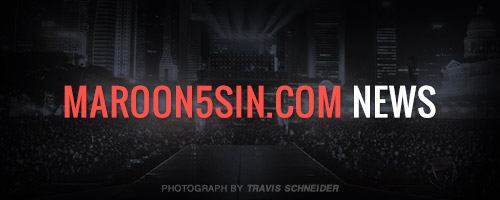 June 19, 2009
M5 Rock Band Pack News

Harmonix announced today that next week's

Rock Band DLC

will feature 3 songs from Maroon 5's "It Won't Be Soon Before Long."

Maroon 5 three-pack ($5.49/440 Microsoft Points, or $1.99/160 Microsoft Points per track)

"Little of Your Time"

"Makes Me Wonder"

"Wake Up Call"

All tracks are master recordings and will be available next Tuesday for Xbox 360 and Thursday for PS3. Check out

www.rockband.com

for more details.
S.I.N. CLUB HEADLINES
Mar 24, 2017

Maroon 5 will make a return visit to Latin America this Sept...

Feb 15, 2017

Today marks the first day that Maroon 5 fans can put themsel...

Dec 16, 2016

Maroon 5 will perform at Jazz Aspen Snowmass Experience, La...
view more
MAROON5.COM NEWS
AUG 14, 2017

AUG 11, 2017

AUG 3, 2017
view more