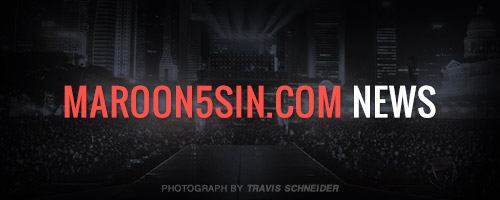 May 23, 2016
4 New Shows Confirmed: Columbia, SC; Memphis, TN, and 2 in Las Vegas

We are happy to confirm that Maroon 5 has confirmed four new shows for this fall: Saturday, September 10 in Columbia, SC (Colonial Life Arena); Monday, September 12 in Memphis, TN (FEDEX Forum); Friday, December 30 in Las Vegas (Events Center at Mandalay Bay) and Saturday, December 31 in Las Vegas (Events Center at Mandalay Bay).

Our S.I.N. Club presale starts tomorrow, Tuesday, May 24.
Legacy members – start time is 10am
Junior/new member – start time is 11am
Presale ends – Thursday, June 2 10pm
Public on sale – Friday, June 2 10am (all times are local venue time).

Note – if you previously purchased tickets to one of the recently cancelled shows in North Carolina… there will be special presale tomorrow, Tuesday May 24 starting at 9am local. We recommend you not purchase tickets then and wait to purchase your tickets during the S.I.N. presale as we have a special allotment with key locations. Membership has it privileges.)

If you are not currently a S.I.N. Member but would like to participate, click here to join.

Check out the Tour page for all the tour dates and ticket info.
S.I.N. CLUB HEADLINES
Apr 30, 2018

Maroon 5 announced a new show on their Red Pill Blues tour. ...

Oct 26, 2017

Maroon 5 is coming your way in 2018 with the Red Pill Blues ...

Oct 20, 2017

Do you have what it takes to be Maroon 5's honorary 8th ...
view more
MAROON5.COM NEWS
MAY 17, 2018

MAY 10, 2018

MAY 4, 2018
view more