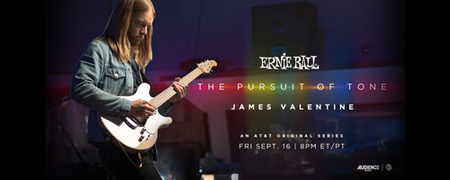 September 15, 2016
James Valentine guests on Ernie Ball: Pursuit Of Tone, 9/16 on Audience

Don't miss Ernie Ball: Pursuit Of Tone, Friday, 9/16 @ 8pm ET/PT, when the spotlight will be on your favorite guitarist, James Valentine! James will give fans a behind the scenes view of being a part of Grammy-award winning band, Maroon 5, and the stories and creative process behind hits like "She Will Be Loved" and "Moves Like Jagger." The program airs on DIRECTV/U-Verse (DIRECTV Ch 239 / U-verse Ch 1114).
S.I.N. CLUB HEADLINES
Oct 26, 2017

Maroon 5 is coming your way in 2018 with the Red Pill Blues ...

Oct 20, 2017

Do you have what it takes to be Maroon 5's honorary 8th ...

Sep 25, 2017

Celerate the incoming New Year with Maroon 5 and fellow...
view more
MAROON5.COM NEWS
MAR 8, 2018

MAR 7, 2018

FEB 27, 2018
view more