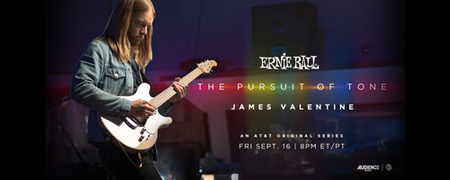 September 15, 2016
James Valentine guests on Ernie Ball: Pursuit Of Tone, 9/16 on Audience

Don't miss Ernie Ball: Pursuit Of Tone, Friday, 9/16 @ 8pm ET/PT, when the spotlight will be on your favorite guitarist, James Valentine! James will give fans a behind the scenes view of being a part of Grammy-award winning band, Maroon 5, and the stories and creative process behind hits like "She Will Be Loved" and "Moves Like Jagger." The program airs on DIRECTV/U-Verse (DIRECTV Ch 239 / U-verse Ch 1114).
S.I.N. CLUB HEADLINES
Mar 24, 2017

Maroon 5 will make a return visit to Latin America this Sept...

Feb 15, 2017

Today marks the first day that Maroon 5 fans can put themsel...

Dec 16, 2016

Maroon 5 will perform at Jazz Aspen Snowmass Experience, La...
view more
MAROON5.COM NEWS
AUG 14, 2017

AUG 11, 2017

AUG 3, 2017
view more