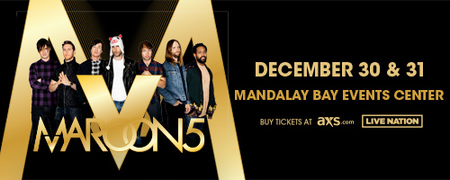 September 25, 2017
LAS VEGAS NYE 2017 PRESALE BEGINS 9/26 @ 10AM PT

Celerate the incoming New Year with Maroon 5 and fellow fans! The band announced that they will play two special concerts on Deember 30 & 31 at Mandalay Bay Events Center in Las Vegas.

Tickets go on sale to the public on Friday, 9/29, but S.I.N. Club members have early access to preferred tickets and VIP Packages. Presales begin Tue., 9/26 @ 10am PT. If you're not yet a member, JOIN NOW!. Read on for complete presale info.

S.I.N. CLUB MEMBERS PRESALE INFORMATION

START: TUE, 9/26 @ 10AM PT
END: THU, 9/28 @ 10PM PT


MEMBER LEVEL
START TIME
PASSWORD
PREFIX
LEGACY
10AM PT
MVWL
JUNIOR (new)
11AM PT
MVWN

Legacy member access begins at 10am PT, and Junior (new) member access begins @ 11am PT.

Legacy status is granted to members who maintain a continuous membership of at least two years or longer. If you have a break in your subscription, then you lose your Legacy status.
How do I know if I am a Legacy member? Login and go to your profile page. Your member info will indiate if you are a Legacy member.

Active members, login to maroon5sin.com and click to the TOUR section. You will find your unique presale code displayed at the top of the page.
Scroll down to your show date and click the GET TICKETS button to go to the AXS ticketing page.
VIP PACKAGES: S.I.N. Club members will receive courtesy 2-hour early access (10am-12 noon) to VIP Packages before packages become available to other groups.
S.I.N. CLUB HEADLINES
Apr 30, 2018

Maroon 5 announced a new show on their Red Pill Blues tour. ...

Oct 26, 2017

Maroon 5 is coming your way in 2018 with the Red Pill Blues ...

Oct 20, 2017

Do you have what it takes to be Maroon 5's honorary 8th ...
view more
MAROON5.COM NEWS
MAY 17, 2018

MAY 10, 2018

MAY 4, 2018
view more